Kobi Nazrul school inadequate, Ofsted report finds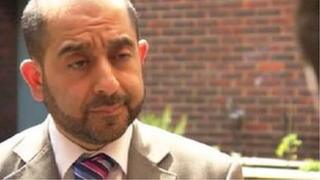 A primary school at the centre of fears about falling standards and alleged extremism has been rated as "inadequate" in a snap inspection.
Kobi Nazrul, in Whitechapel, east London, saw a drop in the number of children achieving the required results in maths and English from 82% to 40%.
A BBC Freedom of Information (FoI) request also revealed concerns about possible Islamification.
Head teacher Kamal Butt said he was turning the school around.
The inspection was carried out with no notice at the request of the education secretary.
The report, now seen by the BBC, found: "Given their starting points, too few pupils do well enough. By the end of Year Six, in reading, writing and mathematics and their achievement is inadequate.
"School leaders do not check pupils' progress closely enough to identify and support those who are not doing well.
"Teaching is inadequate over time. It does not help all groups of pupils reach the levels of which they are capable."
The report also found:
School leaders are not effectively monitoring the quality of teaching.
The governing body has not held school leaders to account.
The school's self-evaluation is too generous.
It went on: "Pupils do not behave well in the playground and are not supervised effectively by adults. Safety is inadequate because bullying is not being tackled effectively by leaders.
"The capacity of leaders and the governing body to secure and sustain improvement is inadequate. Senior leaders and governors do not understand the school's weaknesses. They have failed to challenge the school to improve."
Mr Butt told BBC London the report was "a shock".
He said: "If it's not good enough, it's not good enough - we will always strive to improve.
"The data shows we are on an upward trajectory. I would like to [continue at the school] - I will always do my best to serve this community."
It comes after the FoI request revealed Tower Hamlets Council held information relating to alleged attempts to infiltrate any school by Islamic extremists in the borough, subvert the school's teaching, or oversee the increasing Islamification of lessons.
The council confirmed it was in possession of relevant information, but refused to hand it over, claiming data protection rules may be breached by doing so.
It also emerged one of the governors, Mohammed Abdul ­Kuddus, is a member of the radical Islamist group Hitzb-ut-Tahir.
The school has denied any Islamification has occurred.