Hit-man killer 'Freddy' jailed for Tottenham Turks murder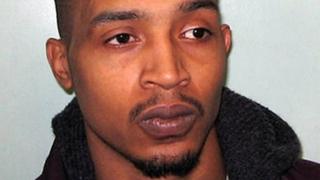 A hired killer who murdered a gang boss and shot his own getaway driver as part of a "Medieval turf war" on London's streets has been jailed.
Jamie Marsh-Smith - nicknamed Freddy after the Nightmare on Elm Street horror film character - was jailed for a minimum of 38 years for killing Tottenham Turks' boss Zafer Eren.
Days later he shot Samuel Zerei; his accomplice and co-defendant.
Zerei was jailed for at least 28 years at the Old Bailey for Mr Eren's murder.
Sentencing Marsh-Smith and 21-year-old Zerei, John Bevan QC called for an end to a long-standing conflict between Turkish gangs in north London which has resulted in 26 incidents in the city, a number of them involving guns.
The judge said: "The use of the streets of this city for fighting a Medieval turf war using hired hands as hit-men is as intolerable as it is unacceptable."
'Knew the truth'
Following the sentencing, Mr Eren's wife said: "This has had a devastating impact on our life; our baby was only 26 days old when Zafer was killed on my doorstep.
"Marsh-Smith and Zerei have shown no remorse for their actions."
Marsh-Smith was hired to kill Mr Eren by street war rivals the Hackney Turks.
The court heard he fired seven shots, hitting Mr Eren three times in his back, outside the victim's home in Southgate in April last year. He then walked to the getaway car, driven by Zerei.
Days afterwards, Marsh-Smith, of Manor House in north London, shot Zerei in Markfield Park, south Tottenham, because "he knew the truth", the court was told.
Zerei, from Newington Green, north London, survived the attack by running to a house and getting help.
Marsh-Smith was also convicted of attempting to murder Mr Eren's cousin, Inan Eren.
His half-brother Wayne McNeish, 33, of West End Lane, Hampstead, was jailed for a minimum of four years and six months for perverting the course of justice by helping him flee London after the shootings.
'Bloodshed' in London
Marsh-Smith, 23, was jailed for life with a minimum term of 38 years for murder and 30 years for each of the attempted murders, which will run concurrently.
Addressing him the judge said: "You are a callous, unfeeling and highly dangerous young man prepared to kill for what I suspect is a modest fee."
Sentencing Zerei, the judge told him: "If you are operating in circles of violence you cannot complain when you become a victim of it yourself."
Det Ch Insp Noel McHugh said: "The conduct of Jamie Marsh-Smith and Samuel Zerei reads like something from a film. They accepted a contract to kill; they had no known dispute with their victim.
"Our investigation continues into Zafer Eren's murder as we seek to find those responsible for ordering the killing."
Baljit Ubhey, chief prosecutor for the Crown Prosecution Service, said: "This case represents just one of a long list of incidents of gang war between the Tottenham Turks and the Hackney Turks.
"These two gangs have been feuding for at least five years and their mutual hatred has caused unnecessary pain and bloodshed on both sides."
The jury was discharged having failed to reach a verdict over charges against Tyrone Wright, 19, of Leyton, and Christopher Annan, 23 of Whetstone, who were accused of attempted murder. They both denied the charge.