Police search for remains in Islington garden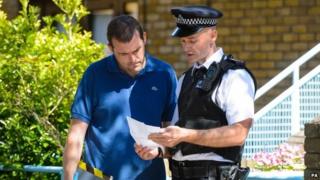 Police have begun a search for human remains in a garden in north London after receiving a tip-off.
In July 2013, officers were informed of allegations going back 30 years that human remains may be buried in Searle Place, Islington.
The information does not relate to the current occupiers of the property, Scotland Yard said.
The Metropolitan Police said it would carry out a detailed excavation as part of its investigation.
Detectives have spent the last year trying to corroborate the tip-off and made inquiries outside the UK before deciding to excavate the property.
Scotland Yard said the search could take several days and police have already started dismantling a shed in preparation for a ground search.
The house where the search is taking place is in a small square backed onto by a row of garages.