World War One: 'King of tattoos' inked thousands of soldiers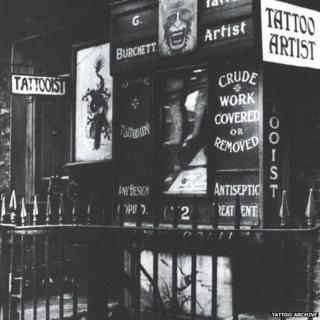 For many World War One soldiers there was one thing that both helped them bond with comrades and remember their families - the tattoo. And, it was one London cobbler who would soon ditch boots for ink they called on.
Regimental crests, portraits of loved ones and the lions of England.
They are just some of the images that were inked onto the arms, torsos and legs of soldiers by George Burchett in his Waterloo studio, as they headed off to the frontline in World War One.
"The reason why soldiers want tattoos is, on a really basic level, it's the fighter instinct, it's the warrior within us and warriors have always decorated themselves, explains world-renowned tattooist," says Dan Gold, who took inspiration from Mr Burchett and has inked a whole host of celebrities and soldiers.
"To get tattooed is almost like putting on armour; you feel stronger once you've got it."
'Proud as Punch'
Mr Burchett was something of a self-styled superstar tattooist and he had some unusual commissions along the way.
One man wanted a portrait of King George V put on his bald head, and he also put a shamrock and thistle on the arm of a nine-year-old girl at the request of her father who was heading to the frontline.
"Without a flicker that child put her little arms on the table, and never even winced," Mr Burchett once recalled.
"Proud as Punch she was when it was all over, because 'Daddy wanted it done'."
Born in 1872 in Brighton, Mr Burchett joined the Navy when he was 16.
This role saw him travel the world, and in Japan, he got his first tattoo.
But life in the Navy did not suit him, so he soon deserted, and left armed with a tattoo machine given to him by a shipmate.
He ended up in Jerusalem, where he set up a business tattooing pilgrims who were visiting the Holy Sepulchre, the site where Jesus is said to have been crucified and buried.
Once there, Mr Burchett's business acumen kicked in and he used the selling point that he was the only British - and hygenic - tattooist there; a move which angered local tattooists.
'Doing a service'
Before long he made his way back home to England where he set up a cobbler business in Mile End, London.
Word soon got around that he had a tattoo machine out the back, and that he was quite good at using it.
His reputation built, and soon he was inking more tattoos than mending boots, especially among military personnel.
He soon became so popular that he packed up his needles and ink, and moved his studio from Mile End to Lambeth Road near Waterloo, the station where many soldiers were heading to the frontline from.
Queues of both British and Allied forces' soldiers soon lined up outside the door.
"He was literally running from morning to night; he put on piece after piece after piece," says Dr Matt Lodder, an art historian from the University of Essex.
"It's very, very interesting to me that he's making money and his reputation out of this but I think he also probably considered himself as doing a service. I think he saw himself in a service industry."
Dr Lodder said people choose images that are important to them.
"They are things that resonate to them or things they find aesthetically powerful or provocative and I think this is where the close association with the military comes form," he said.
"You want to create a community so you're finding symbols which keep you in common; it's one of the things that can bond the officers with the men.
"When you've got the upper classes and lower in the same room together, one thing they can do is show their bodies to each other."
In a later interview, Mr Burchett acknowledged the idea that having a tattoo makes someone feel strong.
"Well they may, or they may not, I don't know about that. The tattooist sees a lot of human nature; can't help it."
'A living history'
After the war, the sombre mood over the millions who had lost their lives meant tattoos changed again.
Memorials, images of graves and crossed flags to show the unity of nations became popular.
"[Soldiers] had things like lost friends, Rock of Ages [a Religious cross tattoo, also known as the sailor's cross] and things like that and that's more reflective on the losses that people have incurred," says Mr Gold.
"I think that's the beautiful thing with tattoos. They're almost a living history, you can see how the mood of a nation changes."
Mr Burchett carried on inking people long after the war, and he also concentrated on building his reputation in the media by conducting more than 200 interviews.
"He's a competent artist, he's not just a tattooer. He would have stood out anyway, but the war seems to have made his reputation," says Dr Lodder.
"He presented himself as the most famous tattooist in Britain, certainly for the first half of the 20th century."
And, the tradition of tattooing soldiers still lives on today, many of which are inked at the hand of Mr Gold, who says it is an honour for him to do it.
"It's a tradition that lives on, especially if you don't know if you're going to return home from a war," he said.