Snakes discovered in Plashet Park in East Ham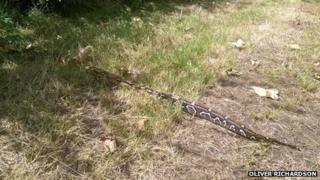 A pair of 8ft (2.4m) boa constrictors were found near a children's play area in a park in east London.
A crowd of 40 people gathered around the snakes after they were spotted in Plashet Park, East Ham, on 13 July.
Police officers used a litter picker and a brown bag to retrieve the snakes, which were taken to a local pet shop and identified as boa constrictors.
The Met said no-one was injured. Boas are not venomous but kill their prey by suffocation.
The snakes are now with the RSPCA and officers believe they may have been released as unwanted pets.
Newham's Borough Commander Tony Nash said: "This is certainly the most bizarre call I can think of my officers dealing with during my time in Newham, but it just goes to highlight how the police must be prepared to deal with any event, often putting themselves in danger, to protect the public."