Police appeal over Kester David railway arch death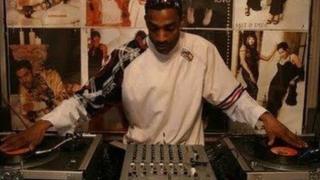 Police are appealing for help in investigating the death of a man whose badly burned body was found under a railway archway in north London.
Kester David's body was discovered behind a building in Broomfield Lane, Palmers Green, in 2010.
Detectives are appealing for anyone who could help them track Mr David's movements in the days before he died.
Mr David's 80-year-old mother pleaded for anyone with information "however small" to come forward.
"When the detectives informed me that the burnt body of a bus driver had been found, the one thing I hoped in my heart was that he was already dead when he was set alight," said his mother, who has requested that her name not be made public.
"No mother should have to bury their child under such horrifying circumstances."
The Met Police, whose appeal was shown on BBC One's Crimewatch, believe that the bus driver, a DJ in his spare time, was killed in the early hours of 7 July 2010.
A post-mortem examination gave Mr David's cause of death as burns and "inhalation of fumes".
Police are keen to speak to a man who was seen purchasing petrol in a jerry can shortly before 03:30 BST on the night before Mr David's death. He was last seen walking towards Broomfield Lane.
Officers are also trying to trace Mr David's mobile phone which has never been found, but was used on three occasions after his death.
Det Ch Insp Noel McHugh said: "Despite continued efforts to identify the circumstances surrounding Kester's death, it remains unexplained and we appeal to anyone who can assist with information to come forward."