Three brothers found guilty of Streatham manslaughter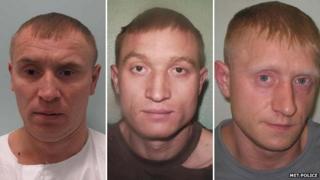 Three brothers have been found guilty of the manslaughter of 37-year-old Pawel Pacholak in January 2013.
Viktoras, Valodia and Jurius Tarasov were convicted at the Old Bailey and are due to be sentenced on 25 July.
After being assaulted by the brothers, Mr Pacholak was "so scared" that he "felt he had no option but to escape via a window", said police.
Valodia and Viktoras Tarasov were also found guilty of perverting the course of justice.
'Complex case'
The three brothers - Viktoras Tarasov, 29 of Aurelia Road, Croydon, Valodia Tarasov, 35, of Abingdon Road, Streatham and Jurius Tarasov, 33, of Barrington Road, Brixton - were found to have terrified Mr Pacholak, a Polish national, into jumping from a first-floor window.
Det Chief Insp Andrew Chalmers, from the Metropolitan Police, said it had been "a complex case, with the prosecution needing to prove the defendants responsible for Pawel's death, despite them not actually having pushed him from the window".
He added: "The jury agreed that the victim was so scared of being further assaulted he felt he had no option but to escape via a window.
"He would never have taken such drastic action had he not been in great fear for his safety."