Homes in Olympic Park area increase by £120,000 since 2005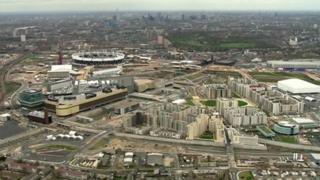 Homes close to the Queen Elizabeth Olympic Park have increased in value by more than £125,000 since London won the bid for the Games nine years ago.
According to research by Lloyds Bank, the average house price in some areas of east London closest to the Park is now about £335,000.
It is an increase of 62% - a rate of £1,200 every month since London won the bid in July 2005.
The bank said in England and Wales, prices rose by £63,000.
The study looked at 14 postal districts closest to the Park.
It also found that since 2012 - when the Games were held - houses prices in the area increased by 23%, while in England and Wales that figure was 8%. Across London as a whole, prices increased by 17%.
Nitesh Patel, housing economist at Lloyds, said: "These areas have been bolstered by large-scale investment in public transport, new property development and the creation of a high-end retail environment, making this one of the fastest-evolving areas in London."