Mark Hayes guilty of stabbing his brother at funeral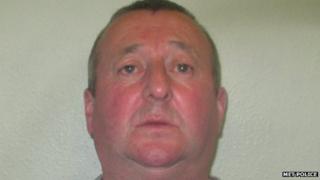 A man has been jailed for life for the murder of his brother following a family funeral in south east London.
Mark Hayes, 53, was found to have used unjustified violence after a long-running family feud with his brother Sean spilled over at the funeral of a third brother, Tommy.
Sean, 49, and Mark Hayes attended separate wakes for Tommy but later came together and an argument broke out.
Mark stabbed Sean in the chest with a kitchen knife, the Old Bailey heard.
Mark Hayes will serve a minimum of 22 years.
Jenny Hopkins, London Deputy Chief Crown Prosecutor, said "tensions were running high" after the funeral of Tommy Hayes on the day before the murder.
After the separate wakes, Sean attended Mark's house in Eltham in the early hours of 27 April and the argument began.
Ms Hopkins said in stabbing his brother Sean, Mark Hayes could not claim self-defence and that "Sean was already on the ground when he was stabbed and posed no threat".
Mark Hayes had denied a charge of murder.