Jail for fraudster who stole £640,000 from cancer hospital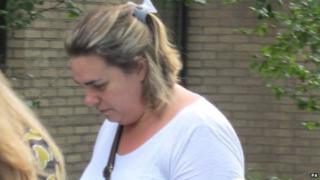 An NHS worker has been jailed for four years over a fraud in which £642,000 meant for vital cancer drugs was stolen from a world-renowned hospital.
Stacey Tipler, 32, used her job in the accounts department at London's Royal Marsden NHS Trust to alter payment details.
She spent the money on shopping sprees and mortgage payments.
Her partner Scott Chaplin was jailed for five-and-a half years for his part as the ringleader.
Southwark Crown Court heard Tipler, from Carshalton, south London, sent the cash to a group of co-conspirators who then passed most of it to Chaplin.
For several months after December 2011, Tipler substituted account numbers of pharmaceutical firms which were due payment with the those of the men recruited by Chaplin.
Passing sentence, Judge Anthony Leonard QC said Chaplin was the "main instigator" but Tipler was "invaluable" to the scam, which he said could had been "catastrophic" for the hospital's patients.
He told her: "It could only have been you who could have come up with the sophisticated and ingenious methods to ensure that your fraud went undetected."
£310,000 shortfall
At one point a drugs firm threatened to stop supplying the hospital with medication after failing to receive payment because of the fraud, the court heard.
Some of the money has been recovered, but the hospital still has a shortfall of £310,000 as it had to pay again for the medication when drugs firms did not receive initial payments.
Tipler, a mother-of-two, who worked at the trust in Chelsea, west London, for 10 years, was found guilty of conspiracy to defraud.
Chaplin, 33, also from Carshalton, was convicted of the same charge and a count of conspiracy to launder money.
The other defendants were:
Adrian Horan, 43, of Sutton, Surrey, pleaded guilty to conspiracy to defraud and conspiracy to money launder, and jailed for 21 months
William Flynn, 37, Wallington, Surrey, admitted conspiracy to money launder and jailed for 12 months
Clinton Woollery, 35, of Sutton, admitted conspiracy to money launder and jailed for 10 months
Thomas Quinlan, 26, Banstead, Surrey, admitted conspiracy to money launder and jailed for eight months
Russell Baker, 32, Worcester Park, Surrey, admitted conspiracy to money launder and given a suspended sentence of nine weeks
Roy Harriott, 31, of Sutton, pleaded guilty to conspiracy to money launder and given suspended sentences of 12 weeks