London population to reach 11 million, says infrastructure report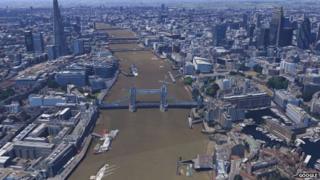 London's population is set to increase by 37% to more than 11 million by 2050, according to the mayor's report on how the city will accommodate the increase.
Boris Johnson said London faced a series of serious challenges in its infrastructure.
Between 2016-50, this could cost up to £1.3 trillion, the report said.
It said 600 new schools and colleges needed to be built as well as 50,000 homes a year but the mayor ruled out building on the green belt.
This is because there are large amounts of brownfield land which could be used, up until at least 2025, he said.
According to the report, the population increase will lead to demand for:
Underground and rail services, likely to increase by 60% and 80% respectively
Energy supplies, increasing by 20%
Water, exceeding supply by 10% in London by 2025, rising to 21% by 2040
The mayor will establish a London Infrastructure Delivery Board to look at how the demands can be met.
Options include:
Crossrail 2 and further Crossrail projects may be required as well as expanding the city's rail network and adding river crossings
Aiming to have 36 trains running each hour on certain Tube lines
Finding an extra 9000ha of accessible green space to improve flood mitigation, improve air quality and enhance biodiversity
Setting up a connectivity advisory group to find out how to improve broadband so that the city will be the first in the world to go 5G in the 2020s
Creating 25% of energy from local sources and exploiting London's waste heat resource
Improving water leakage detection and rolling out water meters
Devolving locally-raised taxes to the city to help boost local infrastructure
Mr Johnson said: "This plan is a real wake up call to the stark needs that face London over the next half century.
"Infrastructure underpins everything we do and we all use it every day.
"Without a long term plan for investment and the political will to implement it, this city will falter."
London Assembly Labour Group Leader, Len Duvall, said: "While I welcome the scale of Boris' ambition, his record on delivery of major projects doesn't match his lofty rhetoric.
"For all his vision, Boris is in danger of stepping down in 2016 leaving behind a legacy of expensive vanity projects, rather than the world class infrastructure we're crying out for."
A consultation on the London Infrastructure Plan 2050 will run for three months with the final report published early in 2015.