Dean Mayley murder trial: Footage of stabbing shown in court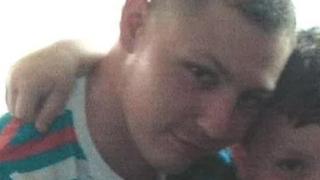 The moment a man with learning difficulties was stabbed to death in an alleged street mugging has been shown to jurors at a murder trial.
Dean Mayley, 24, was stabbed in the heart as he walked along Ruislip Road in Greenford, west London, on 7 February, the Old Bailey heard.
The footage showed Mr Mayley, who had the mental age of about nine, being surrounded by three figures.
Four teenagers, aged between 17 and 19, all deny murder.
Mr Mayley, who had a brain disorder, died in hospital hours after the attack, the court heard.
'Chilling footage'
As the footage was played Mr Mayley's mother and his sister left the courtroom in tears.
Prosecutor Simon Denison QC told the court: "They are going after Dean Mayley, and knowing what is about to happen it is a chilling piece of footage to watch."
Mr Denison said it was believed the gang targeted Mr Mayley because they wanted to steal his mobile phone and North Face jacket as he walked home on 7 February.
The clip, which was captured on CCTV, shows a teenager running up behind Mr Mayley with a knife clenched in his right hand, while two other men are seen blocking the victim's path.
Mr Denison said one of the 17-year-olds struck out at Mr Mayley with the knife.
"There was no reaction (from the other two teens) to indicate any surprise at what had happened," he told the court.
"All three immediately and together ran off back in the direction they came from."
Mr Denison QC said it may well be that Mr Mayley's mental condition meant that he did not understand what was happening, or what they wanted.
'Earlier robbery'
The 17-year-old who allegedly struck the fatal wound cannot be named for legal reasons.
Another 17-year-old, who cannot be named for legal reasons, and Ryan Beresford, 19, stood in Mr Mayley's way, and Michael Mensah, 18, drove them all to and from the scene, it is alleged.
Mr Beresford, of Acton, and Mr Mensah, of Greenford, along with the two 17-year-old boys all deny murder.
Mr Beresford, Mr Mensah and one of the 17-year-olds deny attempted robbery, however the 17-year-old who allegedly stabbed Mr Mayley has admitted the charge of attempted robbery, the court heard.
In court on Wednesday, the prosecution linked Mr Mensah to a similar incident in the same area days earlier in which a 15-year-old boy was forced to hand over his bodywarmer and mobile phone.
Mr Mensah is accused of this earlier robbery on 28 January. He denies the charge.
The trial continues.