Teenager charged over Valentino store smash-and-grab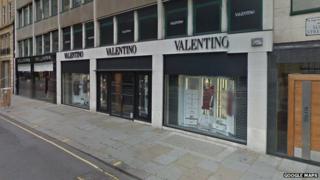 A teenager has been charged in connection with a smash-and-grab raid at a Valentino store in central London.
Five people on three scooters broke down the front door at the Sloane Street store at 00:30 BST, police said.
Charlie Snow, 18, of the Peabody Estate in Farringdon, has been charged with burglary, aggravated vehicle-taking, reckless driving, failing to stop and having no insurance.
Scotland Yard said they were still hunting for four other suspects.
The group took a number of designer handbags from the luxury boutique before riding off towards Marylebone and Kilburn on mopeds.
Police said they had recovered one scooter but no stolen property.