Petition against Hampstead Heath ponds plan handed to council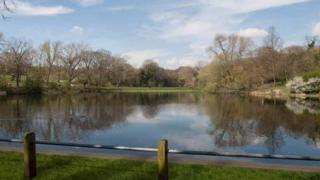 A petition has been handed to Camden Council protesting at plans to redevelop dams at a London park.
The campaign group Dam Nonsense urged the public to respond to proposals by the City of London Corporation to improve the dams around Hampstead Heath's ponds.
Mary Powell, from Dam Nonsense, said the project would "disfigure" the area.
The corporation argues there is an "high risk" of the dams overtopping, which could lead to them failing.
Public consultation
Hampstead Heath has more than 30 ponds, three of which are classified as large "raised reservoirs".
The proposals involve removing some trees to create spillways to prevent flooding in heavy rain.
The corporation, which manages the heath, said it had been advised by its supervising engineer to take action to "minimise the risk to life, property and infrastructure" in north London.
Speaking to BBC London 94.9, Ms Powell said: "It is the scale of the work we are objecting to which is going to lead to about two years of extensive disruption to Hampstead Heath, permanently disfiguring the natural setting... which we have argued won't resolve the problem the City of London has identified."
The petition, with more than 11,000 signatures, was handed to the council on Monday. A consultation on the planning application closed on 7 August.
Bob Warnock, superintendent of Hampstead Heath, said the earth dams needed to be improved so they do not fail during a major rain storm‬.
"We had some serious overtopping of the earth dams as recently as 2010, which resulted in soil being pulled away from the existing dam during a relatively small storm - and this is a risk which we need to take seriously," he said.
The heath dams safety works could cost about £15m, which the corporation said it would pay for.