Afsor Ali jailed for possessing terrorist material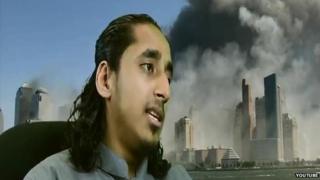 A man who posted a video online, warning of a terror attack against the Duke and Duchess of Cambridge, has been jailed for terrorism offences.
Afsor Ali, 27, from Bethnal Green, was sentenced to two years and seven months for possessing electronic files on how to participate in Jihad.
Judge Charles Wide QC said: "It's absolutely plain you are an extremist and you do support terrorism."
Ali was arrested while trying to board a Eurostar train to Paris in March.
He was found guilty of three counts of possessing information likely to be useful to a terrorist, on 8 August, at the Old Bailey.
He admitted possessing someone else's passport in an unsuccessful bid to flee the country, and pleaded guilty to a bail offence for failing to attend court in February.
Ali was sentenced to 16 months for the passport offence and eight months for skipping bail to run concurrently.
Judge Wide QC said he had made a "really determined attempt" to evade justice.
'Al Qaeda' magazine
Ali was first arrested in December 2011, when he took part in a protest against American drone attacks in Pakistan, alongside members of the banned group Muslims Against Crusades, outside the US embassy, the court heard.
He was released without charge but a laptop and an external hard drive, seized by officers, was found to contain documents useful to terrorists, jurors were told.
The files contained copies of a magazine issued by Al Qaeda and guides on how make a bomb and how to use an AK47 gun, the jury heard.
During the trial, prosecutor Oliver Glasgow told the court Ali had promoted extremism in YouTube videos, under the alias Asad Ullah.
In a 2012 clip, he warned viewers not to attend the royal wedding because of a terror attack.
He also praised the 9/11 attacks as "an historic event", the court heard.