'Just 16% 'of London riot fund spent, according to Assembly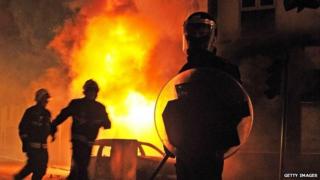 Only 16% of a £70m fund set up for those affected by the 2011 London riots, has been spent, according to a new report.
The London Assembly claims just £11.4m of the Mayor's Regeneration Fund (MRF) has been awarded to projects.
The Mayor of London, Boris Johnson, had indicated he wanted to spend £35.5m by April 2014.
But his office said using the money was not "quick fix work" and "requires serious consideration".
Gareth Bacon, chairman of London Assembly's Regeneration Committee, said: "The 2011 riots left many already deprived areas of London facing even bigger economic hurdles and challenges after such wanton destruction.
"These projects must be delivered in a timely and effective manner, so Londoners who have experienced long-term decay in their communities can live in a safe environment, with access to jobs and economic growth."
'Long-term regeneration'
The report found that some of the funds from the MRF had been used to revamp transport links and public spaces rather than help people directly affected by riots.
It also found that some local businesses in riot-affected areas such as Croydon, expected improvements to happen more quickly and the mayor was not always clear in what the money would be used for.
But Deputy Mayor of London for business and enterprise, Kit Malthouse, said: "Two thirds of this funding is now in delivery and its aim is to provide long term regeneration of the boroughs that were worst affected by the riots."
The Mayor's office said that of the fund more than £45m had been committed with the vast majority of the outstanding funding set to be issued by end of the 2014-15 financial year.
It said projects benefiting from the fund included the borough of Tottenham which would see £28m used to "rejuvenate" Tottenham High Road, deliver parking improvements, and transform the area next to the new Tottenham Hotspur Stadium.
And Croydon will benefit from £23m with money spent on projects including improving Wellesley Road.