Wimbledon burglary attack suspect 'may flee UK'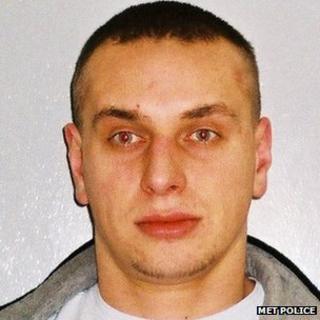 A Polish man who might "flee from the UK" is wanted by police over a burglary in south-west London during which a man was badly beaten.
Paul Kohler, 55, suffered a fractured eye socket in the attack by masked men when he opened the door of his Kings Road home in Wimbledon on 11 August.
Police want to trace Oskar Pawlowichz, 29, and believe he may attempt to reach Poland.
A 30-year-old man has been arrested on suspicion of aggravated burglary.
He was arrested on Garratt Lane in Wandsworth earlier.
Last week, two other men were charged with causing grievous bodily harm and aggravated burglary and both were remanded in custody by a court until later this month.
Police have described Mr Pawlowichz, who was born in Tarnow, southern Poland, as 6ft tall and of a stocky build. He is bow-legged and walks with a limp.
Det Insp Dan O'Sullivan said: "We are calling for members of the public, in particular the Polish community, to assist us in tracing Mr Pawlowichz's whereabouts.
"We believe that he may make an attempt to flee from the UK to Poland, and at present we are in direct liaison with the Polish authorities, UK Borders Agency and Interpol and a co-ordinated effort to detain Pawlowichz is underway."
Mr Kohler's wife, his 24-year-old daughter and her boyfriend were in the home at the time of the attack.
The academic, who is head of law at the School of Oriental and African Studies, has said he is unable to move his eye because of the socket fracture. He is due to have reconstructive surgery this week.