Tower Hamlets election probe: More details submitted to High Court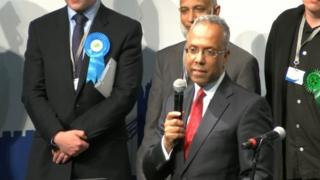 Details have emerged of the alleged corrupt practices the Mayor of Tower Hamlets and his party have been accused of.
The petition submitted to the High Court outlines accusations against Lutfur Rahman and Tower Hamlets First.
The allegations made by four voters include bribery, corrupt practices and exerting undue influence over voters.
Deputy Mayor Oliur Rahman said the allegations were politically motivated.
He said the police had been in the borough ''hundreds of times and the Election Commission has been in and they have said there is no case to answer".
Details of the allegations were revealed after a judge ordered more information to be submitted before an election fraud trial can take place in November.
'Not a good Muslim'
The new allegations referenced in the papers include claims that:
Media organisations in Tower Hamlets were given bribes by the council at the direct or indirect instruction of the mayor in order to procure their support
Mayor Rahman ordered or directed council employees to canvass for him during working hours and by doing so committed the corrupt act of paying canvassers and defrauded the council of a portion of their pay
Mr Rahman corruptly attempted to influence some religious leaders in the borough
There are also dozens of allegations of postal ballot fraud and of people pretending to be registered voters
Some unnamed voters also claim they were told at polling stations by the mayor's supporters: ''You must vote for Lutfur otherwise you are not a good Muslim.''
Allegations have also made against returning officer John Williams which included him allowing people to canvass for votes inside polling stations, accompanying voters into booths as they cast their vote and leaving campaign material in and around voting booths.
In a statement, Mr Williams said: "I totally reject the allegations made against my running of the May election.
"The High Court was critical of the lack of substance provided by the petitioners in July, giving them a deadline of August 18 to provide further details."
The mayor and the council's returning officer will file their official reply at the High Court later this month.
The case has been brought by four Tower Hamlets voters, all of whom have political affiliations.
Debbie Simone and Azmal Hussein are members of the Labour party and Angela Moffatt is a UKIP member
Andrew Erlam who is a member of the Red Flag Anti-corruption Party said it was not a case of political sour grapes.
He said: ''Our motive is to re-establish democracy in Tower Hamlets.
"It may sound an exaggeration to say so, but nobody in Tower Hamlets can rely on the fact that their vote is going to be dealt with efficiently or honestly.''
The trial will be presided over by Richard Mawrey QC who has the power to order a recount or a scrutiny, which would involve scrutinising the signatures on the postal ballot papers.
He could also ban the mayor from public office for up to five years.