North-west London trust 'needs improvement', says CQC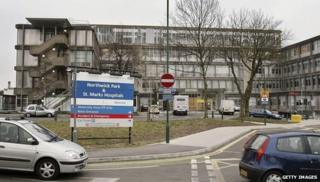 Poor critical care and staff shortages need to be tackled in hospitals run by the North West London Hospitals Trust, a health watchdog has said.
Northwick Park and St Mark's hospitals were graded "requires improvement" by the Care Quality Commission (CQC).
The trust accepted the CQC report and said improvements were being made.
But Ealing Council said the report raised "serious questions" about plans to close some A&E services and treat patients in those hospitals rated.
The trust's third hospital, Central Middlesex, was rated as "good".
'Fair reflection'
The CQC reported concerns with middle-grade doctors working for the trust, adding escalation procedures "were not always followed" and were not always effective when they were.
Maternity care was rated "inadequate" for responsiveness, "as women could not always summon the assistance they required and individual needs were not being met", the CQC said.
It added the environment and equipment in paediatric services also needs improvement.
But it said staff across the trust "were found to be caring and compassionate towards patients, and their families and friends", adding most areas were clean and good infection control was in place.
It also pointed out two areas of "outstanding service" at the trust, in the stroke unit and its short-term assessment, rehabilitation and reablement service.
Explaining its findings, the CQC said some patients at Northwick Park hospital were being discharged too early because of the patient flow through its A&E department.
St Mark's Hospital was criticised for its lack of staff and "coherent processes" and delays in emergency surgeries.
'Stop the closures'
Despite receiving a "good" rating overall, the Central Middlesex Hospital was also rated "requires improvement" because of a lack of equipment and staff in some areas.
David McVittie, the trust's chief executive, said the report "presents a fair reflection of the trust", and said "a significant amount of work" was already under way to improve safety and care in its maternity unit.
He said the trust also planned to centralise its accident and emergency (A&E) care and open a new £21m A&E department at Northwick Park Hospital in the autumn.
But leader of Ealing Council Julian Bell said the report raised "serious questions" about plans to close a "good A&E service at Central Middlesex" when it meant "pushing patients to a poorer service at Northwick Park Hospital".
Hammersmith Hospital and Central Middlesex's A&E departments are two of nine being redesigned.
The changes mean the most serious emergencies will be dealt with at Hillingdon, Northwick Park, West Middlesex, Chelsea and Westminster or St Mary's hospitals.
Mr Bell said: "We were promised that services would only close when proper alternatives were in place, this is clearly not the case and so we expect the NHS to stop the closures."