Tube strike: London Underground workers to ban overtime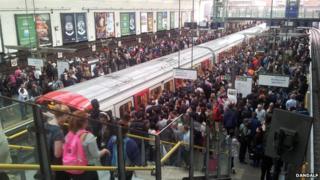 The latest industrial action by London Underground (LU) workers over the dispute about plans to close all ticket offices and cut 960 jobs has been announced.
RMT Union said from next Wednesday, all station staff and supervisors have been instructed to not work any overtime.
They will also not participate in development courses.
LU said it had been in constant dialogue with staff and unions over the plans and that it would continue talks.
Transport for London needs to save £4.2bn by 2020, and hopes to save £50m a year by closing ticket offices and cutting jobs.
The dispute, which began in February, has already seen two separate strikes.
The union said the latest action had been called in response to a "total failure" by LU bosses to engage in "genuine and meaningful talks" over its cuts plans.
The two sides have been holding a series of meetings since the last strike was called off in May.
---
Analysis: Tom Edwards, BBC London transport correspondent
"Last time there were strikes over the same issue Tube ticket office closures and the union got very few, if any, concessions before calling off more strikes.
But the anger is still there and it's not going away, and now the union has changed tack and wants its members to refuse to do overtime.
There also seems to be a change in emphasis away from fighting the blanket closure of ticket offices - not many passengers were completely sold on the idea of keeping them all open.
The union is now highlighting staff reductions and how that will affect the travelling public - especially lone working at outer stations and lower numbers at other hubs.
It hopes that will have more resonance with passengers - and it probably will. In the meantime, LU has not changed it's position at all."
---
'No compulsory redundancies'
RMT acting general secretary Mick Cash said: "RMT has scrutinised the details and it is clear to us that many locations will be left without sufficient staff to safely and effectively run stations.
"All local stations will be lone worked through both peaks and even the busiest gateway stations will see cuts, despite an LU commitment they will get more staff."
Phil Hufton, LU's chief operating officer, said: "As a result of our plans we have guaranteed there will be no compulsory redundancies, anyone who wants to stay with us can have a job, and no-one will lose pay providing they are prepared to be flexible."
Fewer than 3% of journeys involve a visit to a ticket office and more staff will be visible to help passengers, he added.