Kylie Minogue guitarist 'crushed' in masonry fall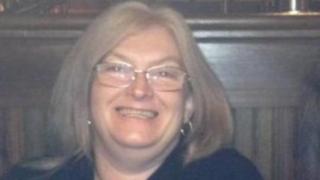 A guitarist for Kylie Minogue's live band has told an inquest he was crushed and his minicab driver killed when a building "fell out of the sky".
Luke Fitton, 25, was injured when masonry fell on his cab opposite Holborn Tube station at about 23:00 GMT on 14 February during stormy weather.
His driver, Julie Sillitoe, 49, from Finsbury, was hit by the cement and killed.
The inquest, at St Pancras Coroner's Court, continues.
'Blinding' pain
Mr Fitton said he and his girlfriend were picked up in the taxi after dinner at Gordon Ramsay's Bread Street Kitchen and had been "discussing how horrendous the wind had been that evening" with Mrs Sillitoe when debris landed on his chest.
He said: "Quite instantly, I felt I had a huge piece of concrete on me, and it just seemed to go from absolute silence and normality to the complete opposite.
"I didn't understand what was going on. I was conscious, I was screaming and screaming because the pain was so blinding.
"It just felt like it was not stopping going down, it was crushing, crushing, crushing."
Mr Fitton said he believed more could have been done to check the building's safety given the stormy weather.
He said: "That was the last of a recurrence of a few days of bad weather. If you were concerned with your building it should be checked and maintained."
Mrs Sillitoe, suffered "devastating" head injuries in the incident which happened during a shift her husband Steve had asked her not to work.
Mr Sillitoe told the inquest: "I said to her 'Do you have to go to work? Why don't you take the night off?'
"She said 'I have to go to work, I have to buy your birthday present'."
Mr Sillitoe later sent his wife a text saying he loved her, and she complained about the weather in the hours before her death.
Paying tribute to her, Mr Sillitoe said: "She was extremely family orientated. It is a number of months since Julie was killed, and every single day I miss her very much."