Met Police discrimination: Scotland Yard 'deflected' bad press in 'dirty trick'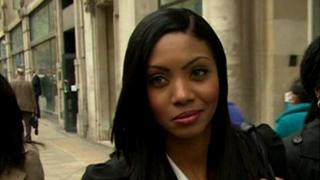 Scotland Yard tried to "deflect" negative press by releasing information about an officer it had discriminated against, a tribunal has found.
A panel of judges found the force released details linked to PC Carol Howard's arrest after it was found she suffered race and sex discrimination.
Ms Howard, 35, a firearms officer, received £37,000 after the tribunal heard she was targeted by her boss.
She said "no amount" of compensation would make up for the "dirty trick".
'Bullied, harassed, victimised'
The tribunal heard Ms Howard, who worked in the Diplomatic Protection Group, had been "singled out and targeted" for nearly a year.
The tribunal heard that within weeks of becoming her line manager, acting Insp David Kelly formed the view the "claimant was dishonest and not up to the standard required", but without a "credible basis".
An officer tasked with looking at her Fairness At Work complaints was asked to delete references to race or sex within a report, the panel was told.
The panel found that, while the force did not name PC Howard in a press statement, a draft version was altered to include more detail about her three arrests linked to a domestic dispute with her estranged husband.
Ms Howard said: "I have been put through a two-year ordeal in which I have been bullied, harassed and victimised simply because of my gender and race.
"I am glad that the tribunal recognised that this leak of information was a dirty trick by the Metropolitan Police aimed solely at deflecting criticism from itself while simultaneously seriously damaging my reputation.
"The arrests were, I believe, also motivated by revenge simply because I made a stand against police bullying."
Ms Howard, of Purley, south London, brought the claim of discrimination at the Central London Employment Tribunal earlier this year and said she was yet to receive an apology.
'Deflect criticism'
A judgement issued by the panel said the Met "directly discriminated" against Ms Howard "on the grounds of sex and race" between 31 January and 29 October 2012.
The judges said: "The respondent had received a lot of negative publicity and had been heavily criticised in the media as a result of the tribunal's judgment in favour of the claimant.
"We have no doubt that the second [press] statement was issued to deflect attention and criticism from the respondent and to portray the claimant in a negative light."
In a statement, Scotland Yard said: " It is essential that all staff and the public have full confidence in our Fairness at Work policy and we are commissioning an independent review of the policy.
"We have noted the comments regarding press lines, there was no intent to deflect attention, but instead to ensure that the organisation was as open and transparent as possible whilst working within our guidelines.
"But we are deeply regretful of any additional distress this caused PC Howard."