Kew Gardens government funding secured until 2015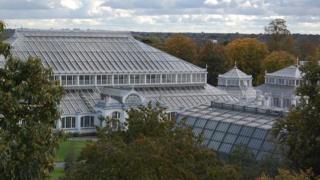 Kew Gardens is to continue to receive its current levels of funding from the government until at least April next year, the deputy prime minister has announced.
Nick Clegg said that £1.5 million had been secured for the Royal Botanical Gardens at Kew to continue its work.
Reductions in funding threaten 125 jobs at the south-west London site.
Kew's director Richard Deverell said he welcomed the funding, but warned it would not fill the gap in their budget.
"This funding will go some way to assist us in achieving the transition to a sustainable future for Kew," he said.
"However, it will not fully resolve the original £5m gap we identified in our budget for 14/15 that we have been managing."
Kew Gardens added the funding would not make a difference to its planned restructure.
In June, a petition signed by 100,000 people was handed into Downing Street protesting against the job cuts.
The GMB Union, which represents horticultural workers, also said the cuts would prevent Kew from fulfilling its legal obligation as an educational and scientific resource and claimed they could break the law.
Mr Clegg announced that funding will be maintained at the same level as in the last financial year, at least until April 2015, which reverses a £1.5 million cut in funding for 2014/2015.
He said: "Kew is one of the most important scientific and environmental institutions in the world.
"This is something that I know a lot of people have been campaigning for and is a significant step towards protecting the future of our environment."