London 'facing teaching shortage' in maths and science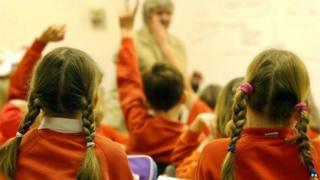 London could be faced with a shortage of teachers specialising in maths and science, new figures have suggested.
According to information obtained by BBC London, about half of teacher training courses for the two subjects have unfilled spaces.
The statistics complied by Data for Education also recorded vacancies in languages and computer studies courses.
The government said they are launching a recruitment campaign to encourage more graduates to become teachers.
'Downward spiral'
Prof John Howson, from Data for Education, who compiled and analysed the figures warned low numbers on courses could lead to standards dropping.
''We have to make sure we are training enough teachers," he said.
''As soon as we get into a downward spiral where we're not training enough teachers there's a danger standards will drop again."
The latest Universities and Colleges Admissions Service (UCAS) data shows there are 126 maths teacher training courses on offer in the capital and 60 have at least one space unfilled.
In sciences, 217 courses are being run, but 121 have spaces, according to UCAS data.
There are also gaps at primary level with the 264 courses recruiting to train primary school teachers, but 113 are not full.
The capital needs to create 133,000 more pupil places by 2018, according to a recent report by London Councils.
Recruitment campaign
The government also recruits teachers, through the Schools Direct scheme, which pays some recruits to train in the classroom for a year.
However, latest figures shows 13 London boroughs have fewer than 19 Schools Direct trainees.
Next week the Government is due to launch a new recruitment campaign called "Your Future, Their Future".
Education Secretary Nicky Morgan said: ''We want as many high quality graduates to think about going into the teaching profession.
"And we're also offering bursaries in some of the key subjects where we particularly want to focus, like maths and science.''