Alice Gross: Police release 25-year-old arrested man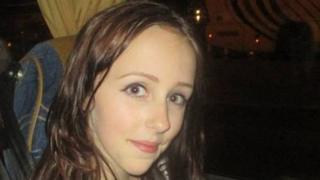 A 25-year-old man arrested on suspicion of the murder of missing schoolgirl Alice Gross has been released on bail.
Alice, 14, from Hanwell, west London, was last seen near the Grand Union Canal on 28 August.
The man, who was arrested on Saturday afternoon, has been bailed until mid-September.
A 51-year-old who was arrested on Sunday on suspicion of murder was released on Monday with no further action to be taken.
The Metropolitan Police said the men had no connection to each other.
Despite the arrests for murder, police said the case remains a missing persons investigation.
The Brentside High School pupil left her family home at 13:00 BST. She had said she was going to meet some friends and would be back that evening.
CCTV footage shows her walking alone along the towpath of the canal that afternoon.
She was recorded by cameras at 14:23 BST near the Holiday Inn at Brentford Lock, heading towards Kew, and again at the same location walking towards Hanwell at 15:45 BST.
At 16:23 BST she was caught on camera near Trumpers Way Canal Bridge.
Her purple rucksack was found last Thursday near the River Brent.
Alice is described as being 5ft 2in (1.57m) tall, slim, with shoulder-length light brown hair.
When her family last saw her, she was wearing dark blue jeans, a dark green lacy cardigan and denim Vans shoes.
The CCTV footage, released earlier this week, showed she had taken her cardigan off and was wearing a dark grey T-shirt.
She had recently been diagnosed with anorexia.