Arsema Dawit inquest: Police 'not serious over threats'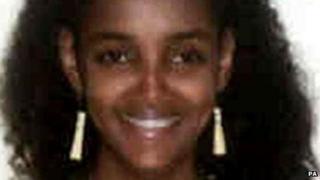 The family of a schoolgirl viciously stabbed to death by her ex-boyfriend have told her inquest the police did not take seriously the threats he had made to kill and assault her.
Arsema Dawit, 15, was stabbed 60 times by Thomas Nugusse at Waterloo, central London, in 2008.
Her inquest at Southwark Crown Court heard this was six weeks after her family reported him to police.
They had tried to report him for making threats and slapping her.
In that incident at McDonald's, Nugusse hit Arsema on her face, leaving her with a black eye.
Her mother and cousin told her inquest when they tried to report that incident, Gillian Johnson, the receptionist at London's Kennington police station, left them feeling that nothing would be done without more proof.
'Don't get involved'
Arsema's cousin Melyon Isak told the jury: "When I said that she [Arsema] had been assaulted she [Ms Johnson] kind of laughed and said in a joking kind of way 'why did you let him do that to you?' with a smile on her face."
While they were at the police station Nugusse, who was 21 at the time, texted Ms Isak with the warning, "stay out of it don't get involved".
He also left a voice message saying: "It doesn't matter what you guys do I'm going to find her anyway".
Ms Isak told the court that, after hearing the message, the receptionist "jokingly said, 'you really don't like him do you?'. I told her I do not like him, no'."
Asked by Clair Dobbin, representing Ms Johnson, if she was angry about being told that more proof may be needed, Ms Isak said: "I was unhappy about that because I thought that we had provided enough proof for the police to arrest him."
Vincent Williams, representing the police commissioner, suggested the statement Ms Isak made at the police station "principally related" to the assault at McDonald's and was not about threats to kill. Ms Isak denied this.
Ms Isak accepted in court she did not have details such as Nugusse's full name, date of birth or address when she spoke to the police.
The inquest has previously heard that her body was found covered in blood by neighbours in a lift in the flats on 2 June 2008. A knife was also found in the lift.
In 2009 an Old Bailey jury found that Nugusse had "committed the acts", despite him having previously confessed to killing her.
He could not be tried because he suffered brain damage in a suicide attempt in prison.
The hearing continues.