London Fire Brigade warns home owners on safety doors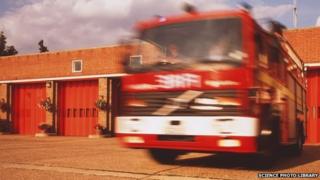 The London Fire Brigade (LFB) has warned home improvers to take more care of fire safety when embarking on DIY.
Fire doors were often not replaced or were tampered with, making properties potentially unsafe, it said.
Three people have died and 36 people have been injured in the last three years in London fires where fire doors have been replaced, left open or incorrectly fitted, it added.
Fire doors are specifically designed to withstand fire for up to 30 minutes.
They are a legal requirement for flats opening onto communal areas shared with other tenants, and ensure escape routes are protected if a fire breaks out.
Steve Turek, the LFB's assistant commissioner for fire safety regulation, said: "You wouldn't remove seatbelts from your car so why remove fire doors from your home?"
The LFB also warned people against removing the self-closing mechanism on fire doors to prevent themselves from getting accidentally locked out.