Marcus Innocent shooting: Man jailed for violent disorder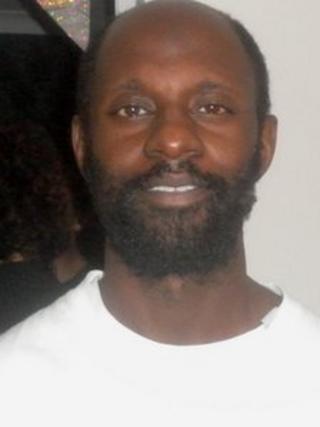 A man has been jailed over a fatal shooting in south-east London.
Marcus Innocent, 35, died from a bullet wound after a dispute with a group of up to 20 people near shops in Kingsman Street, Woolwich, in November 2012.
Peter Ta, 32, of Blackheath, was convicted of conspiracy to commit violent disorder at the Old Bailey and jailed for two years.
He was was cleared of murder, possession of a firearm and conspiracy to commit grievous bodily harm.
Endanger life
In July, Daniel Burgess, 32, of Weardale Avenue, Dartford, was found guilty of murder and jailed for a minimum of 28 years.
Perry Sutton, 24, from Dartford, and brothers Pat and Jack Brennan aged 24 and 22, from Greenwich, were cleared of murder but found guilty of conspiracy to cause grievous bodily harm with intent.
Richard Brennan, 30, a third Brennan brother from Plumstead, was found not guilty of murder but convicted of possessing a firearm with intent to endanger life.
Sutton was sentenced to 10 years in jail while Pat and Jack Brennan were sentenced to 11 years each. Richard Brennan was jailed for 19 years.
Sonny Murphy, 35, from Kidbrooke, was sentenced to four years for perverting the course of justice and three years for possession of a firearm, with both sentences to run concurrently.