Southbank skatepark saved from closure by campaign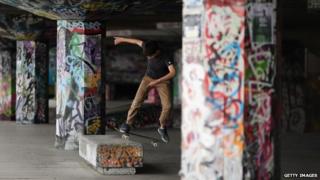 A 'skatepark' on the Southbank of the Thames has been saved after a long-running battle to have it relocated.
Campaign group Long Live Southbank had fought to avert closure of the ad hoc skatepark in the undercroft of the Queen Elizabeth Hall, which is set for redevelopment.
An agreement has been reached with Lambeth Council to keep the undercroft as the park's long-term home.
London Mayor Boris Johnson had supported the skatepark staying put.
The area is not technically a skatepark, as it was not designed for skateboarding, but has been used by skaters for decades.
'Imaginative solution'
Under the deal, the Southbank Centre has agreed to keep the undercroft open for use without charge for skateboarding, BMX riding, street writing and other urban activities, said Long Live Southbank.
Legal action has been withdrawn by Long Live Southbank and the Southbank Centre regarding use of the undercroft.
Long Live Southbank said it now supported improvement plans for the Queen Elizabeth Hall, Purcell Room and Hayward Gallery, on the understanding that they no longer included redevelopment of the skatepark.
Councillor Lib Peck, leader of Lambeth Council, said she was "pleased" the council was "able to work with both sides and find an imaginative solution".
"Shared public space in London is precious and Southbank Centre is a great asset to the country's cultural life," she said.
The site was under threat because of a proposed commercial £120m redevelopment of the Southbank Centre.
The centre had pledged £1m for an alternative skate site 120m (400ft) away, under Hungerford Bridge.