Breaking Bad 'inspired murder plot by daughter'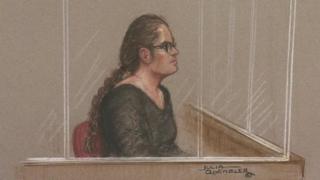 A graphic designer attempted to kill her mother by putting poison in a drink in a plot inspired by US TV series Breaking Bad, a court has heard.
Kuntal Patel, 37, denies trying to murder her "controlling and selfish" magistrate mother Meena by putting abrin in her Diet Coke drink.
Prosecutors said she was angry that her mother had "forbade" her from marrying her boyfriend.
Southwark Crown Court heard abrin is "much more poisonous" than ricin.
Kuntal Patel has pleaded guilty to two counts of attempting to acquire a biological agent or toxin last December.
She is alleged to have bought the poison from a site on the secretive online world known as the dark web, which allows users to be anonymous.
She paid for it using the virtual currency bitcoins, jurors heard. It arrived in a wax candle.
The graphic designer put the poison in the bottle and watched as her mother, who sits on the bench at Thames Magistrates' Court, drank it at her home in Stratford, east London, but nothing happened.
'Not a nice woman'
Prosecutor Jonathan Polnay said the poison was 1,000 times less toxic if swallowed rather than inhaled or injected.
The plot was "inspired, in part, by the US television series Breaking Bad", he said.
"To the outside world, the Patels must have seemed a highly respectable and happy family" but were actually embroiled in bullying and abuse.
"The evidence will show that, in private, Meena Patel - the magistrate who worked in domestic violence and race relations - was not a nice woman at all.
"She would regularly use foul and abusive language, including highly racist language. She would, on occasions, be violent.
"She was highly manipulative and controlling - she would seek to control every aspect of her daughters' lives. And worst of all, she forbade Kuntal from marrying the man she loved - Niraj Kaked.
"Meena Patel was all of those things - manipulative, controlling and selfish. But she did not deserve to die."
He added "When Meena forbade Kuntal from marrying Niraj, rather than bringing shame on the family by trying to marry without her consent, - something which Meena would have done her best to sabotage - Kuntal set out in a calculated and pre-meditated fashion to murder her own mother."
'Target drank all of it'
The court heard that Meena allegedly locked her daughter in her home, beat her, and demanded she stopped seeing Mr Kaked, who lived in the US.
In a series of abusive messages, she called her daughter a "witch" who "cannot be my blood".
In an email to a friend which was read out in court, Kuntal Patel wrote: "I'll never forgive her for what she has done to me. She has stolen my future away from me.
"I couldn't care less about my life anymore. I would prefer to be dead."
Jurors heard that the accused bought the poison for £900 over the internet from American Jesse Korff.
But unbeknown to the pair, the website was under surveillance by the FBI after an advert posted on it in September 2013 offered a Breaking Bad-style ricin poison.
Jurors were told she was inspired by a plot in the TV show, which is about chemistry teacher Walter White who turns to cooking crystal meth with a former student after being diagnosed with cancer.
In messages she wrote: "I've been watching too much Breaking Bad."
It is alleged that the American sent Kuntal Patel abrin, which is similar to ricin, but more deadly.
When her mother survived the poisoning, she confessed her plot to the seller, the court heard.
She wrote: "Something had definitely gone wrong somewhere as it is now early Saturday morning and still everything is normal.
"Yes target drank all of it. I made sure I watched her drink it all."
Kuntal Patel was arrested in January and told police she bought the poison in order to kill herself, but said when the parcel arrived, she became scared and threw it away.
Officers found she had searched "how to murder using poison", "how to create botulism" and "how to murder someone without getting caught".
The trial continues.