'Breaking Bad' inspired poison accused 'wished mother was dead'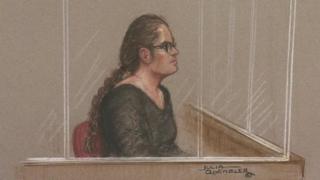 A woman confessed she hoped her mother "died soon", a year before she poisoned her in a Breaking Bad-inspired murder plot, Southwark Crown Court heard.
Kuntal Patel, 37, denies trying to murder her "controlling and selfish" mother Meena by putting abrin in her Diet Coke drink.
Southwark Crown Court heard abrin is "much more poisonous" than ricin.
Kuntal Patel has pleaded guilty to two counts of attempting to acquire a biological agent or toxin in December.
Ms Patel allegedly tried to kill her magistrate mother after she "forbade" her marrying her boyfriend, Niraj Kakad.
She is alleged to have bought the poison from a site on the secretive online world known as the dark web, which allows users to be anonymous.
She paid for it using the virtual currency bitcoin and it was delivered in a wax candle, the court was told.
The graphic designer put the poison in the bottle and watched as her mother, who sits on the bench at Thames Magistrates' Court, drank it at her home in Stratford, east London, but nothing happened.
It emerged in court that the poison is 1,000 times less toxic if swallowed rather than inhaled or injected.
The plot was "inspired, in part, by the US television series Breaking Bad", according to prosecutor Jonathan Polnay, in which a character is killed off using ricin.
Jurors heard Ms Patel duped her close friend Julie Wong into having the package containing the poison delivered to her home in Streatham, south London.
She pretended it was a romantic gift of an expensive candle from Mr Kakad which she did not want her mother to discover.
Ms Wong told jurors that Ms Patel was bullied and beaten by her mother, who was determined to break up her relationship.
'Hate her'
In a series of increasingly desperate emails and texts, Ms Patel confided in her friend about the "relentless" abuse and violence she suffered at her mother's hands.
In one message in August 2012 she said: "My life is so messed up right now, I actually wish I was dead or wish my mum died. I hate her so much."
The following month, on 24 September, she messaged Ms Wong again about her mother, saying: "She got what she wanted, ruining my life. She should be happy. She blatantly said to me 'I don't care if you're unhappy because I made the right decision'.
"She keeps bringing it up, I don't. She just sits on the sofa crying, I hope she dies soon."
Shocked, Ms Wong replied, saying: "You didn't just say that?"
Ms Patel: "What, it is true. I'm sorry, I won't talk about it. It's killing me. I really miss Niraj and we would have been really happy together."
Terror raids
Unknown to Ms Patel, the website she bought the poison through was under surveillance by the FBI, who tracked the sale to London, and alerted British counter terrorism police.
The jury heard that the delivery of the deadly abrin toxin sparked terror raids across London on 26 January.
Specialist officers trained in dealing with biological and nuclear substances searched Ms Patel's east London home, raided her friend Ms Wong's home in Streatham, south London, and Ms Wong's neighbour James Sutcliffe, who entirely innocently took delivery of the package.
Ms Patel was quizzed by officers about the package she received which allegedly contained the poison and arrested her initially on suspicion of keeping abrin without permission.
The trial continues.