Breaking Bad poison accused 'ordered second batch of drugs'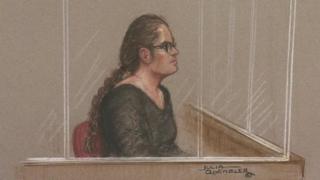 A woman who allegedly poisoned her mother in a Breaking Bad-inspired plot ordered a second batch of drugs after the first lot failed, a court heard.
Kuntal Patel, 37, has denied trying to murder her magistrate mother Meena by putting abrin in her Diet Coke drink.
Southwark Crown Court heard she was arrested when her emails to Jesse Korff asking for more abrin and ricin on the "dark web" were intercepted by the FBI
Prosecutors said she was angry her mother "forbade" her from marrying.
The court heard that through Black Market Reloaded Ms Patel asked Mr Korff to send her a dose of the drugs after seeing the method used on Breaking Bad, in which a character is killed with ricin.
'Stomach shredded'
Jurors were told that after the first alleged attempt failed, Ms Patel, under the name Headgear, emailed Mr Korff on 20 December and said: "Something has definitely gone wrong somewhere because it is now Saturday morning and everything is normal.
"Yes, target definitely drank all of it. I made sure I watched her drink it all. I need this to work... I can't be with the man I love because my mother does not like him."
The email said she needed the deadly concoction to be "tasteless and untraceable".
It added: "I don't want her to end up with her stomach shredded and exploded and the doctors getting suspicious and telling police.
"Now having explained what I need, you can use your chemical knowledge to make it. Abrin/ricin seems the best way.
"Please, please know that I don't want to get caught and put in jail. I still have my future to live with the man I love, that's the only reason I'm doing this."
The court heard Mr Korff, who made his poisons in a lab at his home, reassured Miss Patel he had sent her real poison and said it had "worked" for his other customers.
Jurors were told the FBI had been watching the exchanges and alerted British counter terrorism police before the next batch arrived.
Miss Patel was arrested on 26 January.
She has denied trying to murder her mother, who sits on the bench at Thames Magistrates' Court, and acquiring a biological agent or toxin, but has pleaded guilty to two counts of attempting to acquire a biological agent or toxin.
The trial continues.