Kew Gardens holds 'mind-bending' plant exhibition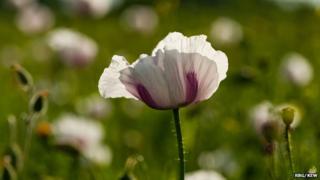 Kew Gardens is holding an exhibition on the mind-altering effects of plants and fungi.
Kew is offering tours, workshops and even samples in its exploration of drugs "from everyday to Class A".
Organisers of the three-week event hope to stimulate debate on why some plants are legal and others are deemed unacceptable.
The exhibition explores the properties and uses of drugs including caffeine, khat, cannabis and opium.
Guest speakers at the event, which runs until 12 October, include Professor David Nutt, the controversial former government adviser on drugs who said ecstasy and LSD were less harmful than alcohol.
Justine Quinn, who curated the exhibition, said the idea for the show stemmed from a Kew show held over the summer, which explored the medicinal properties of some plants.
"Having looked at some beneficial properties we wanted to look at the other way we use plants," she said. "Most of us will take a mind-altering plant at some point."
Several of the talks explore the varied perceptions of drugs in different countries.
"Many of these plants have ceremonial rituals associated with them, it's not just about consuming the drugs on their own," Ms Quinn said.
Since the exhibition began on 20 September, Kew said it had received "overwhelmingly positive feedback" from visitors.
Ms Quinn added: "People often know about the drugs coming from them, not the plants themselves."