Burglar who fled up tree in London jailed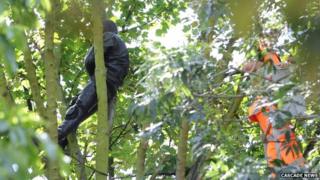 A burglar who caused travel disruption for thousands of commuters when he climbed a tree overhanging a railway line has been jailed for 18 months.
Hundreds of trains were cancelled as Carlton Andre, 33, attempted to escape police.
Andre rode a stolen motorbike to the Stone Lake Retail Park in Charlton, south-east London, where he set off an alarm last month.
Police with dogs arrived but Andre fled and scrambled up the 30ft tree.
Several hours of disruptions followed as he refused to come down.
Andre told police negotiators he was waiting for the force's helicopter to run out of fuel. He eventually came down after 17 hours and was arrested.
'Jump on a train'
He later told police he had planned to jump on a train to escape.
Police recovered an angle grinder which Andre used for the break-in during the early hours of 13 August.
The roofer from New Cross was sentenced at Woolwich Crown Court on 26 September.
Andre pleaded guilty to burglary, handling stolen goods, driving whilst disqualified and obstructing an engine or carriage on the railway.
He was also disqualified from driving for two years.
Det Con Carly Walker, from Greenwich CID, said: "Andre caused an enormous amount of disruption and misery for many passengers when he decided to stay in the tree in the vain hope police would give up and let him escape.
"His actions instigated a lengthy operation involving British Transport Police, the Met Police, London Fire Brigade and Network Rail".