'Breaking Bad' plot: Kuntal Patel led 'fantasy life'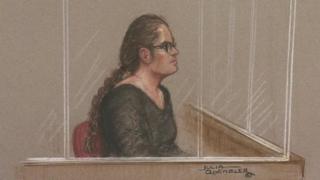 A woman who allegedly poisoned her mother in a murder plot inspired by the TV series Breaking Bad told a court she imagined herself in the show.
Kuntal Patel, 37, confessed she fantasised about killing her magistrate mother Meena after she "forbade" her to marry her boyfriend, Niraj Kakad.
Ms Patel said she contacted an American poisons dealer using "the dark web".
She said she talked about needing a "tasteless" and deadly toxin to get her mother "out of the way".
But Breaking Bad-obsessed Patel said the emails were a "fantasy" in which she imagined herself as a character in the American TV series.
'A big mess'
In the series, teacher-turned-drug lord Walter White spikes a rival's drink with deadly ricin.
Giving evidence at Southwark Crown Court, Ms Patel said: "It was like I saw myself to be some kind of Mexican drug warlord. I would think it through as if I was the main character in Breaking Bad.
"It was all a big mess. A complete and utter mess."
Ms Patel admitted she emailed poisons dealer Jesse Korff in America to demand deadly toxins.
In one email sent last December, she told how something had "gone wrong" as the "target drank all" of the poison but was still alive.
But Ms Patel insisted the emails were just a way of her coping with her abusive home life and depression - and she never poisoned her mother.
She said: "By this time, because of the messages I received from my mum and because I couldn't cope with it and I wanted to escape from it all, I started to fantasise about trying to kill myself or my mum.
"It was as if I was thinking through it as if I was in my own TV programme or a character in Breaking Bad.
"I was in a really strange place in my mind."
'Wanted her dead'
It is claimed Ms Patel got deadly abrin sent to her hidden in a candle and slipped it to her mother in her Diet Coke.
When it did not work, she allegedly begged the poison dealer for another, stronger dose.
But Ms Patel claims she freaked out when she saw the candle and threw it away.
Prosecutor Jonathan Polnay confronted Ms Patel with the emails she sent her friends, claiming they showed she was "growing to hate" her mother and "wanted her dead".
Ms Patel replied: "There may have been instances where I did, but in the same breath I also had sympathy and I also did love her."
Mr Polnay said she only admitted she had thought about murdering her mother with poison because she was "busted" by officers.
He said: "The truth is, to be with the man you loved you couldn't see any other way but to knock off your mum."
He added: "I suggest this Breaking Bad fantasy is one last desperate roll of the dice; the last story after all the other lies had been uncovered."
But Ms Patel said: "The truth is, I could never hurt myself or my mother."
She denies trying to murder her mother - who sits on the bench at Thames Magistrates' Court - and acquiring a biological agent or toxin.
She has admitted two counts of attempting to acquire a biological agent or toxin last December.
The case continues.