Sainsbury's store in 'spend more' poster gaffe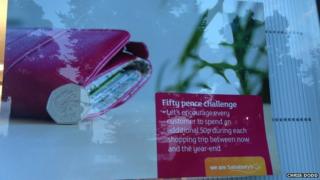 A poster encouraging Sainsbury's workers to get customers to spend more was put up in a store window in error.
The sign, urging staff to get people to spend an extra 50p, appeared in Stratford, east London on Monday.
Customer Chris Dodd took a picture and posted it on Twitter saying: ".@sainsburys not sure this is supposed to be in your window."
Sainbury's tweeted back saying it should have remained behind closed doors and was meant for staff only.
A Sainsbury's worker called Ross, who was managing the Sainsbury's Twitter account, asked Mr Dodd to reveal which store it was in.
'Fun and achievable'
But Mr Dodd refused and insisted he wanted people to know what the company was up to.
The poster read: "Fifty pence challenge - Let's encourage every customer to spend an additional 50p during each shopping trip between now and the year-end."
A spokeswoman for Sainsbury's said: "We often use posters to make store targets fun and achievable for our colleagues.
"They are intended for colleague areas in the store, but this one was mistakenly put on public display."
Mr Dodd said the poster was taken down from the store in Romford Road, a few hours after he had published his tweet.