Suspects in knifepoint burglary at Ian Wright's home released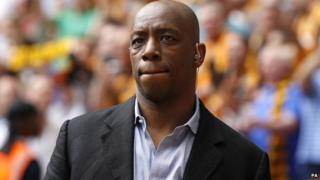 All three men arrested in connection with a knifepoint burglary at the home of former England striker Ian Wright will have no action taken against them.
Four men forced their way into his north-west London home while he worked in Brazil as a World Cup TV pundit. His wife and children were threatened.
Three men were arrested on suspicion of aggravated burglary and then released on bail.
All have now been released with no further action to be taken.
Two of the men, aged 40 and 32, were released on 4 September while the 34-year-old was released at the weekend.
A Met Police spokesman said there was currently no one arrested or released on bail in connection with the incident.
At the time of the burglary, the 50-year-old former Arsenal star tweeted: "You won't get away with it."
At the time, Steve Kutner, Wright's agent, said: "It was a terrifying ordeal. They marched Ian's wife from room to room."