Summer Tube delays fall by 20%, according to TfL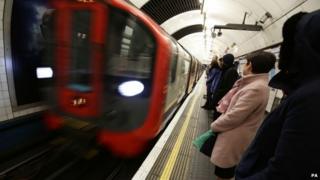 Delays on the Tube fell by 20% during the summer months compared to in 2013, Transport for London (TfL) has said.
Measured by Lost Customer Hours (LCH), delays are calculated by the extra time taken for a journey due to disruptions of at least two minutes.
TfL said between May and June LCH dropped from 1.55 million hours to 1.42 million. Between June and July it fell from 1.82 million to 1.45 million.
The RMT union and Aslef both credited the drivers for the improvement.
TfL said the reduction in delays between June and July equated to a 20% fall and "demonstrates that LU remains on track to meet the mayor's commitment to reduce delays by a further 30% by 2015".
But Mick Cash for the RMT said: "This success is simply unsustainable with the billions of pounds worth of financial cuts being lined up by Boris Johnson and the threat to jobs and services that go with it.
"The continued success... is entirely down to the hard work of the staff and particularly unsung heroes like the cleaners who work round the clock in often appalling conditions to help keep the system ticking."
During the time period used for the comparison, London Underground said it carried 1.265 billion passengers.