Second phase of London cycling 'Quietways' announced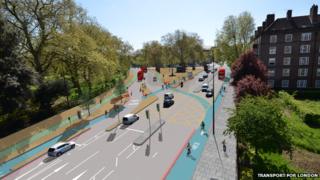 Phase two of London's cycle "Quietways" scheme has been announced, extending segregated cycle lanes and junction changes to all 32 boroughs.
Phase one comprises seven routes in 15 boroughs, the first of which are due to open in spring 2015.
Phase two will re-shape roads and junctions in Ealing and Twickenham town centres and other major thoroughfares.
A "significant number" of the new projects should be under way by 2016, the mayor's office said.
'60s relics'
Other proposals in phase two include a segregated cycle route along part of the A316 and improvements to the existing Cycle Superhighway 9 (CS9) in Hammersmith & Fulham and Hounslow.
New cycle crossings are due to be installed on the A406 North Circular Road at Neasden and near Ilford, while Abbey Wood station will get a new cycle "superhub" and improved links to Thamesmead.
---
Superhighways vs Quietways
Superhighways are segregated cycle routes on main roads.
Quietways will be cycle routes on less segregated roads on streets with less traffic.
Source: Transport for London
---
London Mayor Boris Johnson said: "We can turn these junctions into more civilised places for cyclists and pedestrians, while at the same time maintaining their traffic function.
"We know that most serious bike and pedestrian injuries and fatalities occur at junctions. That's why we are overhauling some of the worst examples of these 60s relics across London."
Since Cycle Superhighway 7 was launched in 2010, the number of cyclists using the route has increased rapidly, according to the mayor's office, with more than 2,400 cyclists an hour using the route during morning and evening peak travel times.