London hotel hammer attack: Sisters say attacker 'took away our futures'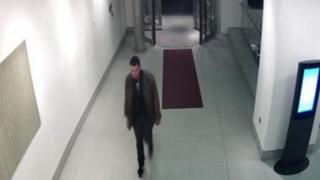 Two sisters who were attacked and left for dead at a London hotel have said their attacker "took away our futures".
A third sister, Ohoud Al-Najjar, 34, lost part of her brain and can no longer speak after the attack at the Cumberland Hotel, in Marble Arch, on 6 April.
Her sister Fatima Al-Najjar said Ohoud was like a "living dead sister".
Philip Spence, 32, was found guilty of three counts of attempted murder at Southwark Crown Court.
'Horrific injuries'
Spence attacked the trio from the United Arab Emirates in their hotel rooms, as their children slept beside them.
In an impact statement, sisters, Khulood, 36, and Fatima, 31, said they had both been medically retired from their jobs as a result of their injuries and their sister Ohoud would never recover.
"She is now confined to a hospital bed for the rest of her life and unable to communicate, eat, see, move," Fatima said.
"She can only squeeze my hand; she is a living dead sister. Seeing Ohoud like this every day breaks my heart."
Khulood said: "That night I lost everything, my way of life, my sister Ohoud and also my ability to care for my children as much as I would like."
Khulood said she was now "dependent on other people, to help me wash, to drive me, to assist me when I walk".
She also admitted she was now fearful of strangers and her two young daughters refused to sleep alone.
'No remorse'
"The full impact on the children cannot be fully comprehended until they grow up," she added.
Khulood and Fatima both said no prison term would be enough for the damage Spence had caused.
"He has never once shown any remorse," Fatima said.
"He cannot even admit what he has done. He blames other people for his own mistakes."
She added: "I will never ever forgive him, and sincerely hope that one day he will feel the pain that we are in."
Spence, from Harlesden in north-west London, was also found guilty of conspiracy to commit aggravated burglary, as was Thomas Efremi, 57, from Islington.
Both men will be sentenced on 17 November at Southwark Crown Court.