Met Police facing investigation over tree death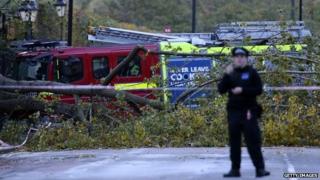 The police could be investigated for failing to put a cordon around a storm-damaged tree which later collapsed and killed a woman.
The woman died in Kensington, south-west London, on Tuesday.
The Major Crime Unit is reviewing the incident and the Independent Police Complaints Commission has been contacted.
The Metropolian Police is appealing for witnesses who may have filmed the scene on mobile phones to get in touch.
Det Insp Dave Bolton, from the Met Police, said: "There were many people in the area at the time and these witnesses could hold key information."
Wall collapse
Officers were called to reports of a partially fallen tree in Kensington Road after 11:00 BST, as high winds from the aftermath of Hurricane Gonzalo hit the UK.
A cordon preventing vehicles from entering the area was in place. However, pedestrians could still access the scene police said.
About 30 minutes after officers arrived a supporting wall collapsed and the tree slipped, crushing a woman as she walked underneath.
Officers said they knew the identity of the dead woman and her next of kin had been informed, but they were awaiting formal identification.
A post-mortem examination is due to take place at Westminster Mortuary on Friday.