Lee Rigby memorial will not bear his name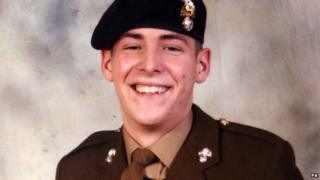 A memorial for Lee Rigby will not feature the murdered soldier's name, it has been revealed.
Greenwich Council said a stone would be placed in St George's Chapel garden, opposite Woolwich Barracks where Fusilier Rigby was based.
The council, which said its plan had the backing of the soldier's family, said the memorial would pay tribute to all fallen servicemen and woman.
Fusilier Rigby was murdered on 22 May 2013 by two Muslim converts.
The council said it had worked with the Rigby family to agree on a suitable memorial.
In a statement, a council spokesperson said: "The stone would be inscribed 'to mark Woolwich's history as a barracks town and to commemorate all those servicemen and women who have served or lived in Woolwich and who have given their lives in the service of their country'."
In addition to the stone, a scroll will be held in Woolwich Town Hall listing the names of those commemorated.
The soldier's widow Rebecca said: "I know St George's Chapel and it is a peaceful place and I think the memorial proposals will be fitting."
His mother Lyn said: "I support the council's plans and will feel able to visit the memorial in the chapel."
Fusilier Rigby, from Middleton, Greater Manchester, was murdered as he returned to his barracks in Woolwich.
Michael Adebolajo and Michael Adebowale drove into him before hacking him to death.
Adebolajo was given a whole-life term while Adebowale was jailed for a minimum of 45 years.
Earlier this year the council rejected calls for a memorial, despite thousands of people signing an online petition for the soldier to be given a permanent remembrance site in Woolwich.
Local MP Nick Raynsford said at the time a memorial would attract "undesirable interest from extremists".