Heena Solanki used acid to kill herself and her two children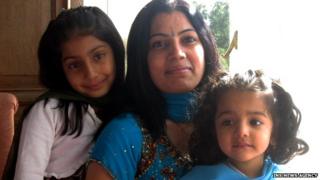 A mother poisoned herself and her two young daughters by drinking acid, an inquest has heard.
Heena Solanki, 34, was found dead alongside Jasmine, nine, and Prisha, four, at their home in Ruislip, west London, in April last year.
She had taken the substance from a locked cupboard at the school where she worked as a lab technician.
West London Coroner's Court heard Mrs Solanki was struggling to get on with her live-in parents-in-law.
Police and paramedics who went to the scene were forced back by the fumes from the substance, the court heard.
'Happy and content'
Mrs Solanki's widower, Kalpesh Solanki, found the three bodies.
None of her family attended the hearing but a statement was read out from Mr Solanki.
"Prior to her death I believed that Heena was happy and content," he said.
"We lived a nice life with our two children, Jasmine and Prisha.
"The only thing that I was aware of that made her unhappy was that we lived with my parents."
The inquest also heard from Mrs Solanki's friend, Branali Chambhare, who said she had confided in her that "her father-in-law was a bit cranky and a bit problematic".
Ligature compression
She added that her friend had also clashed with her husband and his parents about their daughters' studies as "she pressurised her children".
"I think her in-laws and husband didn't like it at all," she said.
She said Mrs Solanki never spoke of being depressed or harming herself but used to say she wanted to go and live in India with her children.
Post-mortem examinations found all three died of substance intoxication in association with ligature compression.
Only firefighters wearing specialist breathing equipment were allowed on the scene, where three medicine bottles with residual liquid were found along with a suicide note.
Coroner Chinyere Inyama said paperwork had also been found in the boot of Mrs Solanki's car about chemicals.
He concluded that Mrs Solanki took her own life while Jasmine and Prisha were both unlawfully killed.