Ritzy cinema staff to vote on strike action over job cuts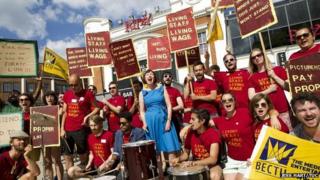 Cinema staff who fought a campaign to get paid the London Living Wage are set to be balloted on strike action after they were told some could be made redundant.
Workers at the Ritzy cinema in Brixton, south London, will now be paid £8.20 per hour following talks.
The union says 34 staff members out of a pool of 79 could lose their jobs as a result of the pay rise.
Picturehouse Cinemas said it could only increase the wage if it reduced staff.
Cinema staff were previously on a starting wage of £7.53 but this was increased following the talks at conciliation service Acas.
Workers have staged a series of protests in the last year over not being paid the London Living Wage of £8.80.
Luke Crawley from the union Bectu said: "I understand a business would not want to pay people properly because that's how they make profits but that's not really acceptable.
"We're not talking fantastical amounts of money here, it's not a fortune. Even if you work 40 hours a week you're still not going to be rich as a result of getting the London Living Wage.
"But the fact is, on the national minimum wage, you haven't really got enough to live on in London."
In a statement, the cinema said: "During the negotiation process it was discussed that the amount of income available to distribute to staff would not be increasing and that the consequence of such levels of increases to pay rates would be fewer people with higher paid jobs."
It added: "There are several proposals which are being openly discussed directly with all Ritzy staff (not just those in a union) and with Bectu as the collective representatives for the staff.
"No decisions have been made.