Over 26,000 suspects fail to appear in court after bail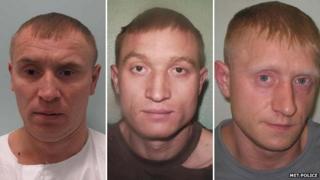 More than 26,000 criminal suspects skipped bail in the last three years in the London area.
People failing to turn up to court included alleged rapists, murderers and paedophiles, according to police figures.
But the Metropolitan (Met) Police said the figures include people who were subsequently arrested.
They also refer to people who did not turn up for less serious offences and magistrates' orders.
'On the run'
There were 47 people accused of rape or attempted rape who failed to appear in court from the start of 2012 till 2 August 2014, said the Met.
In addition, 198 people suspected of sexual offences did not turn up after being bailed, including those allegedly failing to place themselves on the sex offenders' register.
More than 3,000 people accused of assault, actual bodily harm and grievous bodily harm also skipped bail during the period.
Three murder or attempted murder suspects failed to appear in court, as well as one person linked to alleged terrorism activity.
Criminals skipping bail included two brothers, Jurius and Valodia Tarasov, who were convicted of manslaughter in July and then bailed before being sentenced.
Valodia was found by police the next day, while Jurius was tracked down just over a week later.
Other suspects that went missing on bail also included terror suspect Mohammed Ahmed Mohamed, who went missing in November 2013 after changing into a burka at a mosque and fleeing.
In response to criticism that too many suspects were being granted bail, Justice Minister Mike Penning said: "We will always have sufficient places in prison for those that the courts choose to send here, and by the end of this parliament, we will have 3,000 more adult male places than we inherited from the previous Government."
A Met spokesman said: "We are committed to maximising every investigative opportunity to bring offenders to justice swiftly and we aim to finalise investigations wherever possible during the first period of detention."