CCTV films suspected armed robbers putting on disguises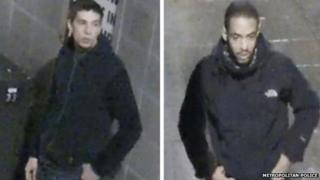 Two suspects in an armed robbery were caught on camera putting on disguises, police have said.
The suspects were caught on CCTV nearby covering their faces and pulling up their hoods near Shepherd's Market in London, while one of the suspects was seen putting on surgical gloves.
Shortly afterwards a 37-year-old man was threatened with a gun.
No shots were fired and the victim escaped unhurt. The assailants fled the scene empty handed.
Detectives investigating the 19 October event are searching for a white man and a light-skinned black man, both described as being between 18 and 21 years old.