Camden council criticised for cuts campaign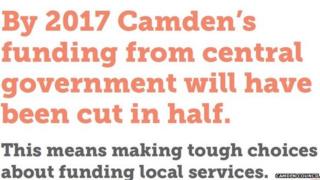 Labour-run Camden council has defended spending £20,000 on a campaign against government austerity measures.
The council has come under-fire for producing an animated Youtube clip as part of the campaign, at a cost of £6,000.
The "Camden Council's financial challenge" video has been watched 1,700 times since it was published by the council on 5 September.
But the council has said the advertising exercise is "essential".
A further £14,000 was spent on advertisements for the anti-austerity campaign and an eight-page supplement for its in-house magazine, according to information released under the Freedom of Information Act.
'Everyone will be affected'
Theo Blackwell, cabinet member for finance, said: "This is a campaign to enable all Camden residents to have a voice in decisions about their services, not just the most informed, because everyone will be affected.
"The £20,000 we have spent on our biggest pre-budget engagement exercise ever to involve people who don't traditionally get involved in council business is essential in shaping our decisions about how we reduce our budget by £70m."
But the expenditure has been challenged by Conservatives locally, who have also claimed that it has not been politically fair.
The leader of Camden's Conservative group Claire-Louise Leyland described some of the posters as propaganda.
She said: "We should use accurate information, rather than information for propaganda. That's what separates us as a democracy."
A spokesman for the Local Government Association - the local government umbrella body - said all councils would be consulting residents on how savings should be made. But how councils do that will be a political decision which is taken locally, he added.