Picturehouse cinema backs down over Ritzy job cuts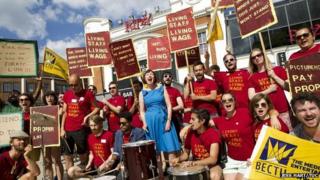 Cinema staff who fought a campaign to get paid the London Living Wage will now not face redundancy after the company backed down.
Workers at the Ritzy in Brixton, south London, were given a rise to £8.20 per hour but were then told 34 out of 79 staff members would be made redundant.
Following a public outcry which saw writer Will Self calling for a boycott, Picturehouse has now done a U-turn.
It said the consultation process has ceased and no jobs would go.
Picturehouse is owned by Cineworld whose chief executive Mooky Greidinger told the Evening Standard the company was not aware a consultation process for redundancies had begun at the Ritzy.
He said he had now agreed with Picturehouse management to halt the process.
Before the U-turn, cinema workers were being balloted for strike action.
'Job security'
Willy Donaghy from Bectu, said he was "delighted that with the support and campaigning activities of tens of thousands of supporters on social media, the company have had a change of heart".
He added: "However, we will not stop our plans to ballot for strike action until we have received the assurances on job security that we have requested.
"We have asked for a legally binding agreement that enshrines the principles agreed at [conciliation service] Acas."
Ritzy staff were previously on a starting wage of £7.53, but this was increased following the talks at Acas.
In January, their wage will increase to £8.40 and then rise again to £8.80 next September.
The announcement comes as rival cinema company Curzon confirmed on Wednesday it would pay its staff the London Living Wage of £8.80.
Tessa Jowell MP has tweeted the decision of Curzon Cinemas to pay all staff the Living Wage made the redundancies at the Ritzy look "increasingly deplorable".