Teenager stabbed to death outside shop in south London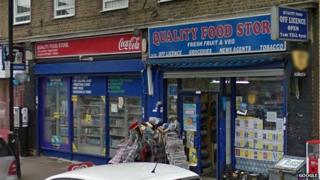 A teenager has been stabbed to death outside a convenience store in south London.
The 18-year-old was attacked in Pilgrimage Street in Borough on Friday afternoon and died at the scene, the Metropolitan Police said.
A witness said the victim was with his aunt and a friend when he was attacked outside the Quality Food store.
A post-mortem examination is expected to be carried out over the weekend. No arrests have been made.
Justice Minister Simon Hughes, who is the Lib Dem MP for Bermondsey and Old Southwark, said the stabbing, which happened just before 14:30 GMT, was "an awful tragedy" and urged anyone with information to contact the police or Crimestoppers.
"The victim's family and friends have the deepest sympathy of all in the community," Mr Hughes said.
"Any attack like this has no justification in our borough or city and I call on everyone, particularly young people in Southwark or elsewhere who knew the victim, to restrain themselves from any further action which might make matters even worse."