Tower of London poppy crowds ignore half-term Tube woes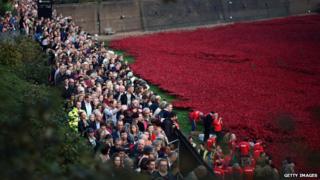 Huge crowds have been to see the Tower of London poppy garden despite warnings to stay away until after half-term and to avoid a Tube station closure.
Hundreds of people lined the perimeter of the tower's moat on Saturday to catch a glimpse of the Blood Swept Lands And Seas of Red exhibition.
Each poppy commemorates a British and colonial death during World War One.
People were also warned to expect delays because of the closure of Tower Hill station for engineering works.
The Tower of London said Saturday was one of the busiest days to date but staff were coping with the crowds.
Tower Hill station had to be shut a number of times on Friday because of the number of people visiting the poppy garden.
The first of the 888,246 ceramic poppies was planted in the Tower's dry moat in July, with the final one due to be installed on Armistice Day.
'Caught the imagination'
Liberal Democrat London Assembly Member Caroline Pidgeon said the decision to close Tower Hill tube on Saturday and Sunday was "an appalling decision".
"The stunning Blood Swept Lands and Seas of Red display has caught the imagination of literally hundreds of thousands of people who desperately want to see this display before it comes to an end," she said.
"In other areas Transport for London do a great deal in recognising Remembrance Sunday and supporting the poppy appeal, but in this instance their actions are simply wrong."
---
At the scene
Nick Beake, BBC London news reporter
It's extremely busy, a bit like after a football match. There are crowds of people, five and six deep, all around the perimeter of the Tower of London viewing the poppies.
The City of London is a lot busier than normal with spectators steadily making their way from Bank and Aldgate because of the closure of Tower Hill.
I spoke to a group of pensioners who had travelled from Kent. They had heard the message to stay away but told me the coach trip had been booked a long time ago.
Although it's very busy there is a low friendly murmur here rather than the usual crowd noise, as people reflect on the meaning of the installation as well as taking photos and selfies.
---
Phil Hufton, London Underground's chief operating officer, said Tower Hill station had been closed for "vital engineering work".
He said travellers had been warned about the disruption and advised to use Aldgate, Aldgate East and Tower Gateway stations.
The Tower of London has urged people to delay their trip to the installation until after the half-term and to visit before 10.00 GMT or later in the day to avoid the busiest times.